I don't know what made me think of this the other day, but it still made me smile...
In the fall of 2009, I read The Twilight Saga in the span of a week.  Besides loving the series, I had an awesome experience reading them.  Jessie and Rachel had recently read them, and shortly after I did, Yvonne and Angie read them.  Then the second movie came out, and we were hooked. 
Between the five of us, there were countless incredibly detailed and animated conversations regarding the books and movies. 
In fact, it's probably good that I wasn't blogging then.  : )
But it was very fun that for that time.  We all allowed each other to be silly and giddy.  We fed off of the other's excitement.  We relished in it, and it made us all closer.  It was even better since we all worked together.
The second book introduces a traditional love triangle between Bella, a vampire Edward, and a werewolf Jacob.  There are two camps: those who root for Bella to end up with Edward ("Team Edward"), and those who root for Bella to end up with Jacob ("Team Jacob").  There are pros and cons to each which I am sooo sooooo tempted to go into right now, but I'll stay focused...
Rachel, Y, and I were Team Edward.  Angie wished she was "going home to a man-wolf" (that is a direct quote).  Jessie was definitively Team Jacob.
So Rachel and I decided to do Jessie a favor since 1. she was Team Jacob and 2. she was always leaving her computer unlocked.  I would change the wallpaper on her monitor to a picture of Jacob; Ray would distract her. 
Around 6:00 that night, I gave Ray "the signal."  She called Jessie's extension and asked her to come to her office.  As soon as I heard Jessie get up from her desk, I emailed her a picture of Jacob.  As soon as I heard her talking in Ray's office, I strolled past Ray's office to Jessie's desk where I hacked her email and saved the picture as her wallpaper.  I deleted the email, minimized all of her screens, locked her computer, and strolled past Ray's office again where I gave Ray "the second signal."
They wrapped up their conversation, Jessie headed for her desk, and Ray and I waited with baited breath.  Then:
"Bah ha ha ha haaa haaa haaaaa!"
: )
And no sooner had we gotten to her desk to revel in the fun did Bob, a partner at the firm, walk by to see this: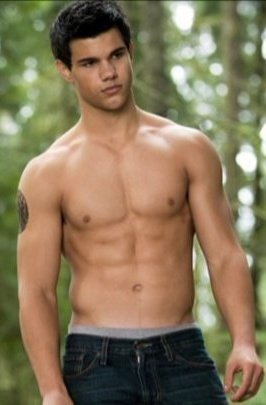 Bah ha ha ha haaa haaa haaaaa!
He played along and (loudly) razzed her pretty good.  Jessie got very flustered and tried to cover up her entire monitor...with a post-it note.  Suffice it to say, his abs were still showing, even weeks later.  : )